Task List Program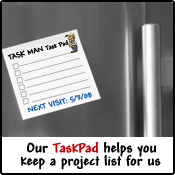 Task Man has a package option that can help you save money, as well as ensure your maintenance needs are always up-to-date.
The Task List Program allows you to reserve a block of time on a regular basis (weekly, bi-weekly or monthly) to meet your task needs. It's similar to having regular maid or lawn care service, just with a Task Man handyman.
The program gives you the services of a Task Man to fix or install anything that needs doing within your appointment block of time. This is a great way for you to save money on our services and it guarantees you a spot on our schedule. We provide a pad for you to keep your list, which also lets Task Man stay one step ahead by coming prepared with everything that's needed to complete work on the next visit.
Example: Customer Rose Smith utilizes the Task List Program on a monthly basis. During the month, she keeps a running list of tasks around the house. When her Task Man shows up for his scheduled appointment, he takes care of everything on the list --changing light bulbs, repairing a sticking closet door, or fixing a hole in the screen. Rose takes comfort in the fact that she has a trusted handyman to help her keep her household running smoothly.
Task List Program Customers pay by the hour, not by the task. This saves you both time and money.
Contact Task Man today to start discussing your Task List.
Seasonal Maintenance Program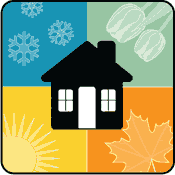 The Seasonal Maintenance Program prepares your home and yard for spring/summer and fall/winter. At the beginning of the season, a Task Man will visit your home and perform the jobs necessary to get you ready for the upcoming weather.
Some examples of seasonal maintenance for fall/winter include: shutting off water to outside hoses, draining hot water tanks, weathersealing doors and windows, insulating draft spots, repairing damage on siding and shutters. Spring/summer tasks might be sprucing up exterior trim, painting, powerwashing siding and windows, fixing and refinishing wood decks.
This type of seasonal maintenance helps keep your home in tip-top condition.